Flevoland - A Tour in Yachting Network Development & Marinas
It's hard to believe the entire modern province of Flevoland was under water less than 100 years ago. The province was created by cutting off the North Sea, turning it into a lake, and draining a third of the lake to create a 1419 km2 island that now houses a population of almost 400,000. A tour around the capital of Lelystad reveals several lessons in creating waterfronts: marinas with different uses and a network of interesting things to connect them. Let us give you a tour of the area or download PDF.

A Lesson in Engineering: The Making of Lake Ijssel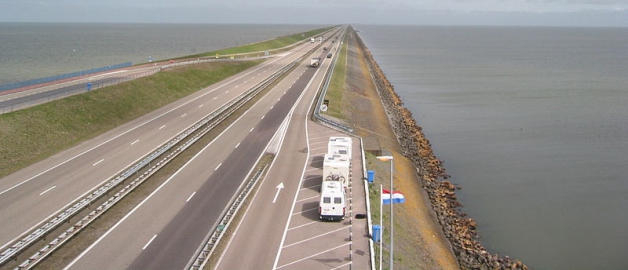 Lake IJssel was created by several major engineering projects in the 20th Century, beginning with the construction of a 32 km dam across the Netherland's largest inland sea in the 1930s. The water changed from salt water to fresh water, and in the 1960s and 1970s large land reclamation projects resulted in the creation of a large island – the Province of Flevoland. The Province includes six municipalities and an internationally-important 56 square kilometre nature park, the Oostvaardersplassen. The province is a contemporary example of what the Dutch have been doing for centuries, successfully managing land and water to improve natural and human habitats.
A Mixed-Use Waterfront: Batavia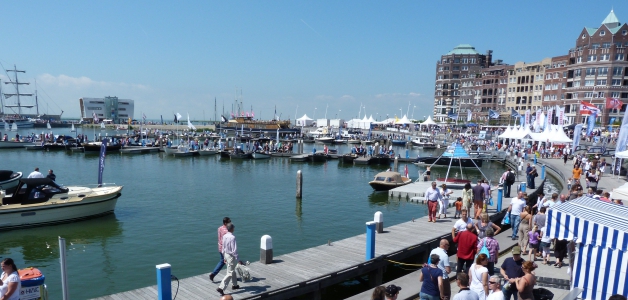 The capital of Flevoland, Lelystad, has a substantial central business and government district situated around its train station, but it also has significant waterfront developments along its 17km-long coastline, including 5 marinas. Batavia is a satellite community west of Lelystad that includes a sheltered harbour adjacent to a mixed-use residential area with cafes, restaurants, and shops, a central plaza, the New Land Heritage Museum and the establishment of the National Marine Historical Centre, which attract over 2 million visitors per year, and the first retail shopping outlet of the Netherlands
The Bataviahaven (harbour of Batavia) is a marina only for visitors. A dedicated part of the basin is the homeport for a fleet of traditional sailing barges and the Lelystad SAR station. A limited part of the facilities in the Bataviahaven are used by the Match and Team Racing yachts of the Batavia Sailing Centre. Events, like the European 2K Team Racing Championships and the Alpari World Match Race Tour, are organized directly in front of the marina or on the open water of Lake Markermeer (700 km2).
An Educational Marina: Yacht Club Het Bovenwater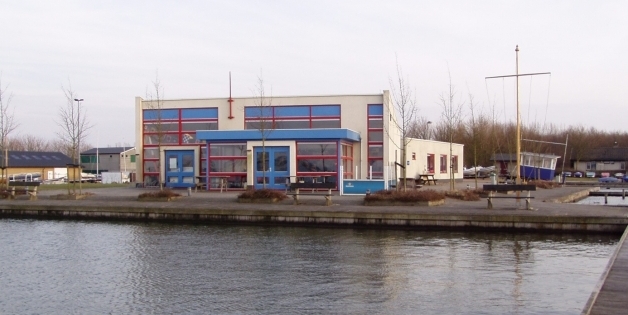 An essential part in a waterfront network is facilities to attract new people to water sports. Yacht Club Het Bovenwater (80 berths in the water plus an on-land dinghy trailer park) is situated on a 125 acre enclosed lake behind the dike, which provides safety. The lake is shallow (max. 1.30 meter) and used by open dinghies and keelboats. The Yacht Club and combined Sail Training Centre is one of the 4 regional training facilities in The Netherlands of the Royal Dutch Yachting Association. The facilities include a covered repair shop for boats owned by the club and a covered storage facility for training and rescue vessels. Adjacent to this Yacht Club is a campsite, a surf school and a public beach. Other facilities exist for a scouting group and a canoe club.
An Industrial Marina: Noordersluis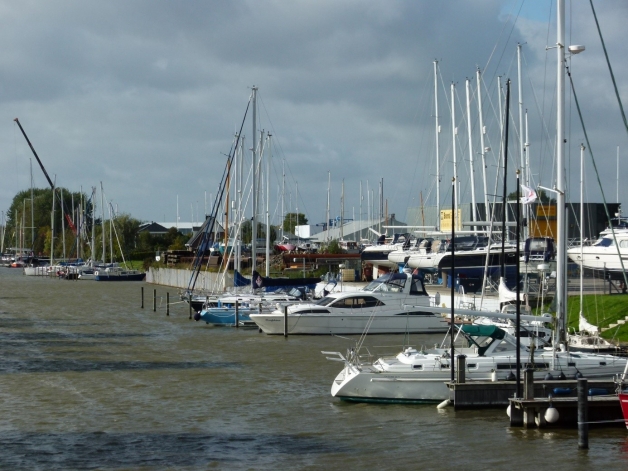 South of Bataviastad and harbour, the industrial area of Noordersluis can be found where there is a clear yachting industrial service cluster. Yacht building, specialised in composites (e.g. 'Black Betty', winner of the 2005-2006 Volvo Ocean Race and the Nuna 7, winner of the 2013 World Solar Race), yacht repair, technical service, yacht painting, winter storage, yacht brokers and a yacht importers. A limited number of houses are located in this area to retain its true function as an industrial cluster. Leaseholds for the land here are affordable as it is reclaimed land behind the dike in an industrial area. The size of different companies vary, depending on their activities and financial budget. All of them are located on a canal that is connected to the adjacent lake by a lock. In front of their company, most of them have berths for maintenance and repair or berths used as a buffer during the winter storage period.
A Residential Marina: Parkhaven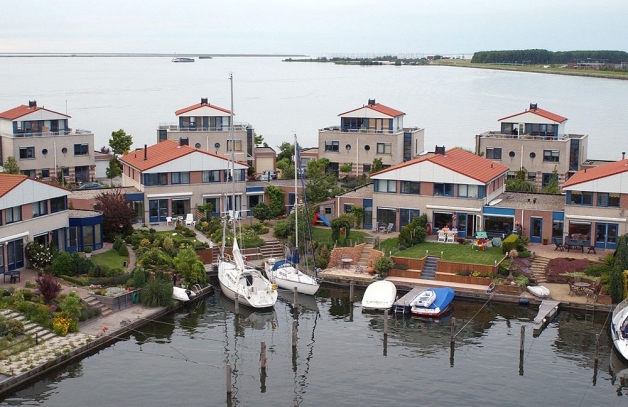 Residential Area Parkhaven is a development on a constructed dike on the North side of Lelystad in Lake IJsselmeer with 105 houses and 15 apartments. Each house has its own berth in the attached marina, and there are no facilities for visitors or guests.
A Full-Service Marina: Flevo Marina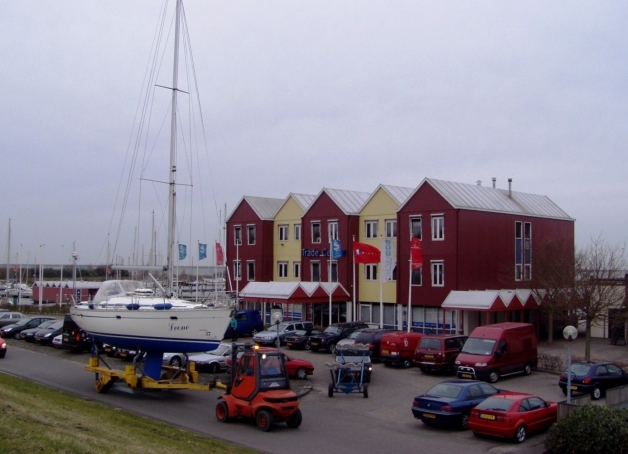 Flevo Marina (955 berths) is a full service marina on Lake IJsselmeer. Outside the dike is a small area of reclaimed land with a Marina Trade Centre (20 offices), harbour masters office including a floating fuel station, chandlery, restaurant and bar, a 40 ton travel lift and mast crane, technical service centre (office) and different yacht transporters. In the marina, there are 3 floating islands with sanitary facilities and a floating sailing centre. The berths in the marina basin are for berth holders and a dedicated number are for the companies in the Marina Trade Centre, mainly yacht importers and yacht brokers. The land in this area is expensive as it had to be reclaimed from the lake (4 m deep). All facilities that are not directly water bound are in the cheaper land area behind the dike. These include the winter storage and technical service area (e.g. carpentry, polyether repairs, engines, electronics, painting, sail maker, etc.) and the car park for berth holders and visitors. The inland area behind the dike can be regarded as a yachting industrial area. Tenants pay the marina operator if they use the marina facilities (berths, offices, boat lift and 'in land' facilities). The entire concept attracts a high number of visitors per year, both by boat and by car.


A Non-Commercial Marina: Yacht Club Lelystad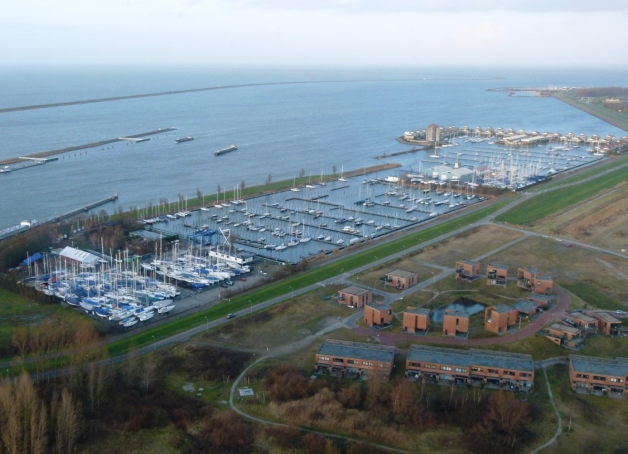 Yacht Club Lelystad (550 berths) was the first marina in Lelystad, established in 1975. Deko Marine (400 berths) neighbours the Yacht Club and was built in 1997, in combination with the Residential Area Parkhaven. Both marinas have winter storage and repair facilities and a restaurant. Yacht Club Lelystad organizes yacht races like the Dutch Lenco Regatta (100 sailing yachts, 500 crew participating in 2013). This Lenco Regatta is organized at Flevo Marina, as Flevo Marina has enough available berths and adequate facilities to host an event of this size. The dinner for the 500 crewmembers takes place in a part of the covered winter storage sheds.
Home of Waterfronts NL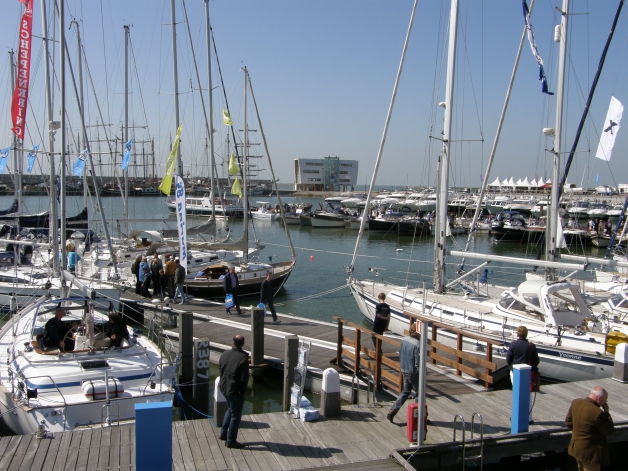 Waterfronts NL's first office and Information Centre was located in the heart of the Batavia Harbour, with a 360 degree view of the lake, marina, mixed-use residential area, and the green city of Lelystad. Several of our participants have also been involved in developments in Lelystad. Royal HaskoningDHV was assigned to develop Batavia Harbour's marina, from idea through to construction, floating pontoons were supplied by Inter Boat Marinas and tachnical facilities on the pontoons were supplied and installed by Seijsener. KuiperCompagnons was involved in the creation of a Coastal Vision for Lelystad's Waterfront.